MARIACHI FIESTA MEXICANA

all the joy and romanticism of Mexico
OUR MUSIC
TYPES OF MUSIC WE PLAY

PERFORMERS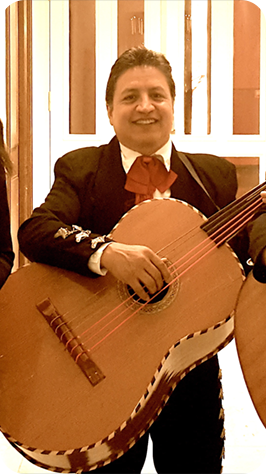 Fernando Lobato (Ecuador) guitarron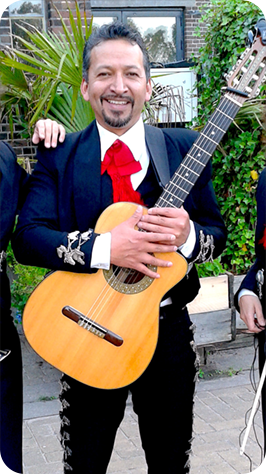 Paul Lovato (Ecuador) guitaar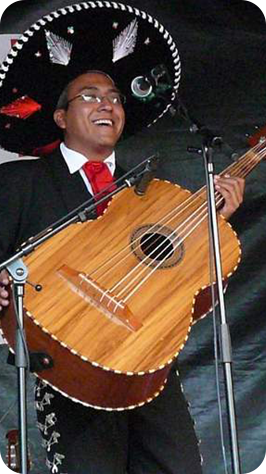 Humberto Albores (Mexico) guitarron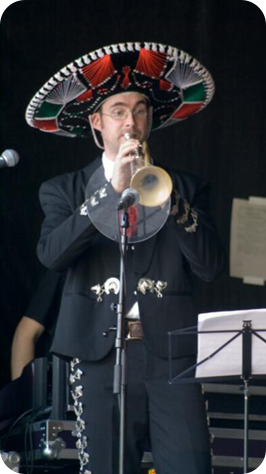 Heiko Hebner (Duistland) trompet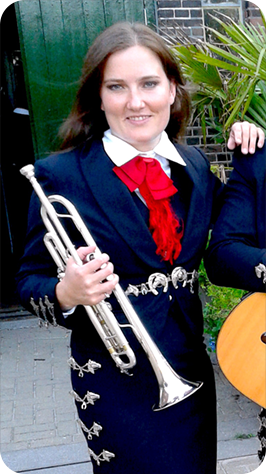 Wiebke Pharman (Duistland) trompet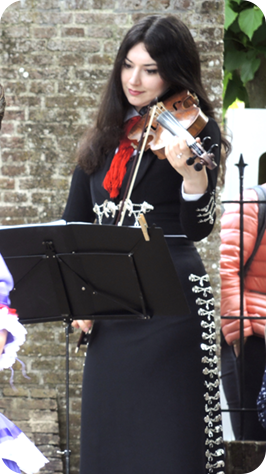 Julia Rusanowsky (Nederland) viool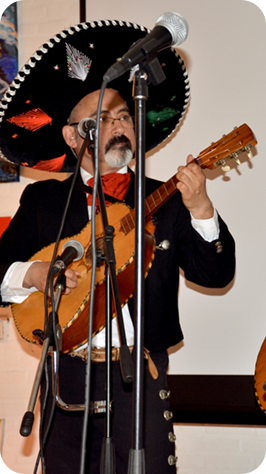 Fredy Olivares (Chili) vihuela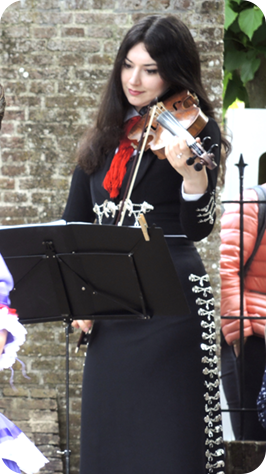 Julia Rusanowsky (Nederland) viool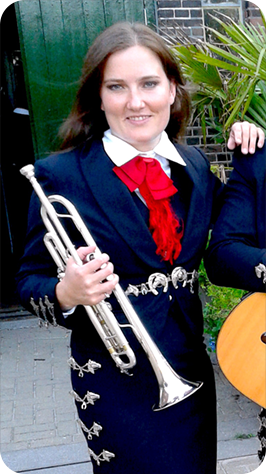 Wiebke Pharman (Duistland) trompet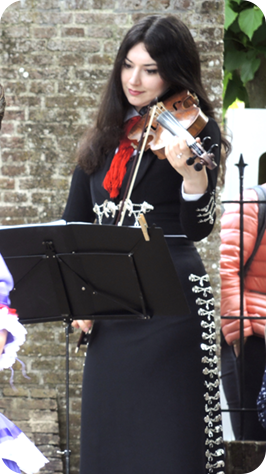 Julia Rusanowsky (Nederland) viool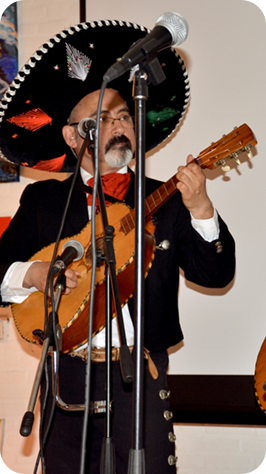 Fredy Olivares (Chili) vihuela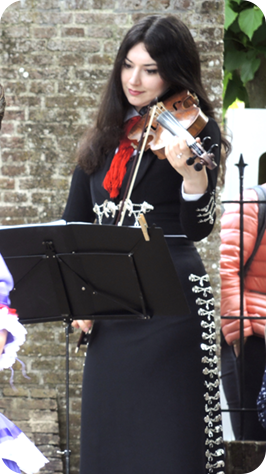 Julia Rusanowsky (Nederland) viool
Mariachi Mexican Party
The mariachi is a typical Mexican formation that appears around ends of the XVIII century and principles of the XIX one. In the is reflected great part of the wealth of the Mexican folklore as for music and dance refers as well as the romanticism, temperament and passion of its town. Trumpet, violin, guitar, guitar and guitarron are fundamental instruments in the Mexican music.
The Mariachi Fiesta Mexicana interprets in the entire world with feeling and virtuousness this wonderful music that is famous.
You will be able to enjoy in our concerts of boleros, country, Mexican ballads; well-known songs as Cielito Lindo ( Pretty Sky), Guadalajara , El jarabe Tapatio, etc. Famous Mexican composers' songs as José Alfredo Jiménez, Agustín Lara and Javier Solis romantic music Lose Panchos, Vicente Fernández. We have a wide repertoire where those are but well-known and better topics of the lifelong mariachis, as; Ay Jalisco, Mexico Lindo (pretty Mexico ), Las Mañanitas (The mornings), El son de la negra (He is of the quarter note), etc. Naturally we interpret for the Latin public the favorite songs as: El Rey (The king), Volver Volver (to Return to Return), etc.
The Mariachi Fiesta Mexicana adapts to any event type, Weddings, Conventions, Anniversaries, private Parties, festivales, etc. with the possibility of going from a trio to a septeto of Mariachis. Always with authentic Mexican suits and a great professionalism.
WE ARE IN ALL YOUR CELEBRATIONS

Weddings
We make your wedding an unforgettable day, with the perfect band for your reception, ceremony or wedding party.
Festivals
Professional Latin bands for festivals and large stages and all kinds of events; fairs and expositions.
Hotels
Either a small or large cafe, restaurant or a hotel. We provide the perfect band for every catering facility.
Serenates
A beautiful Mariachi ensemble with the typical mariachi costumes provide an unforgettable serenade at your wedding or anniversary.
Birthdays parties
We make your birthday a big party. You can choose from an duo, trio a Salsa band or a Mariachi ensemble.
Companies
Are you looking for duo/trio or an enthusiastic band for your company party? You are at right place with Sabor Latino.
Bedankt voor uw bericht. We nemen zo snel mogelijk contact met u op.

Sabor Latino. All around Latin Music

This site has been created in collaboration with different musicians and professional groups, the objective is to offer you choices and selections in a variety of music styles, whether is a solo, duo, trio, fourth or group of Salsa, Folklore, Samba, Mariachi, etc. Each one has their own music gender such as salsa, meringue, Cuban music, Spanish, Gypsy Kings, Brazilian music, Rumba flamenca, Mexican music, Mariachi, Folklore music; etc.
Our groups are available to play at any social event, whether is social, cultural, weddings birthdays, bachelor's parties, barbecues, etc. We also play at Cafes, Restaurants, Companies parties, Institutions, Cultural Organizations Festivals, and Theatres etc. We can perform in any place: Holland, Belgium, Germany or any other European country.
Fernando Lobato
Phone:
+31206149626
Cell phone:
06-22429993

E-mail:
This email address is being protected from spambots. You need JavaScript enabled to view it.

Address:
Vijzelgracht 39hs
1017HP Amsterdam
The Netherlands
Bedankt voor uw bericht. We nemen zo snel mogelijk contact met u op. Sabor Latino. All around Latin Music