SABOR LATINO
let us turn your wedding, birthday or barbecue into an unforgettable party

Más información de cada grupo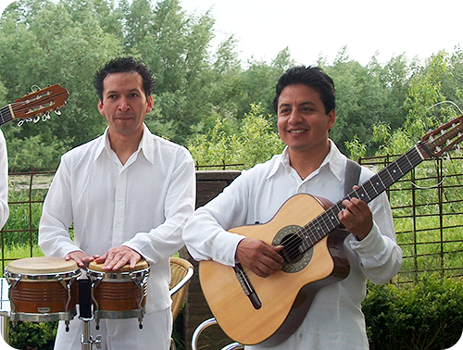 DUO. More info click here
Click here

to listen songs of this group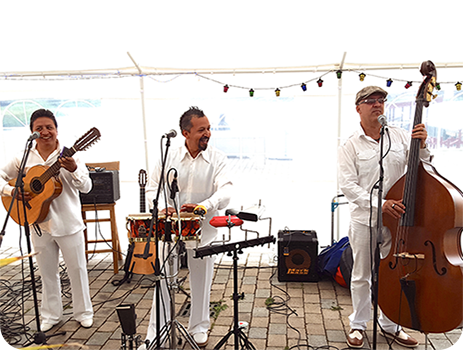 TRIO. More info click here
Click here

to listen songs of this group

QUARTET. More info click here
Click here

to listen songs of this group
Sabor Latino basic trio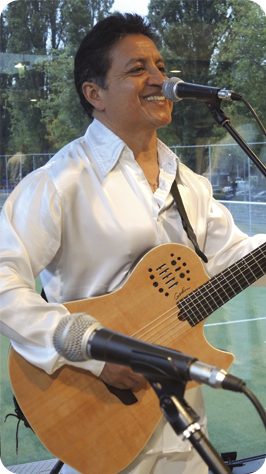 Fernando Lobato (Ecuador) Lead vocals, gitaar, tiple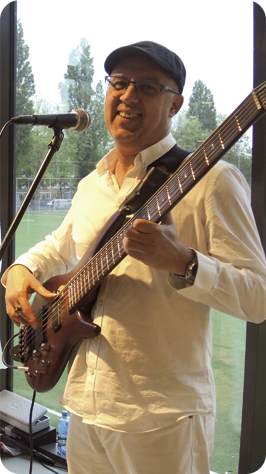 Jesus Hernandez (Cuba) Bas, Background vocals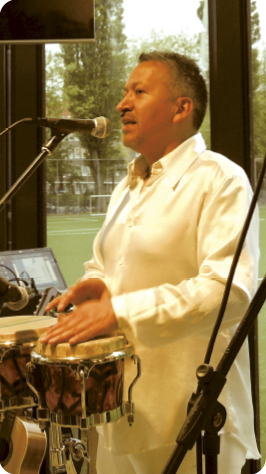 Paul Lovato (Ecuador) Bongo's , Background vocals
Duo, trio, quartet or quintet
We offer you duets, trios, quartets and quintets, all these formations possess a solid sound and Professional, these groups are ideal for events where live music is required to an economic price, as weddings, conventions, anniversaries, neighborhood parties, an intimate birthday, parties of companies, family meetings, either at home or in a room of receptions or in summer next to the pool.
We have a wide repertoire, we play different kind of latin American music styles: bosanova, cha-cha-cha, Latin jazz, but also dancing music as Salsa, merengue, cumbia, etc. Besides Latin music we also play numbers in English, Italian music, etc.
If we play acoustic, we can come closer to dedicate to your guests a romantic serenade during the dinner.
These formations are flexible, we can have this way an extra musician or dancer, depending of your wishes, location, the number of guests and naturally of your budget.
We have an amplification system if it is necessary for around 300 people.
Salsaworkshop
We offer you also you the possibility of a Salsa workshop, in which we teach your guests the basic steps of the warm rhythms of the caribe: salsa, merengue, for entertainment and amusement of your guests. We can play music through our amplification system during the pauses.
WE ARE IN ALL YOUR CELEBRATIONS

Weddings
We make your wedding an unforgettable day, with the perfect band for your reception, ceremony or wedding party.
Festivals
Professional Latin bands for festivals and large stages and all kinds of events; fairs and expositions.
Hotels
Either a small or large cafe, restaurant or a hotel. We provide the perfect band for every catering facility.
Serenates
A beautiful Mariachi ensemble with the typical mariachi costumes provide an unforgettable serenade at your wedding or anniversary.
Birthdays parties
We make your birthday a big party. You can choose from an duo, trio a Salsa band or a Mariachi ensemble.
Companies
Are you looking for duo/trio or an enthusiastic band for your company party? You are at right place with Sabor Latino.
Bedankt voor uw bericht. We nemen zo snel mogelijk contact met u op.

Sabor Latino. All around Latin Music

This site has been created in collaboration with different musicians and professional groups, the objective is to offer you choices and selections in a variety of music styles, whether is a solo, duo, trio, fourth or group of Salsa, Folklore, Samba, Mariachi, etc. Each one has their own music gender such as salsa, meringue, Cuban music, Spanish, Gypsy Kings, Brazilian music, Rumba flamenca, Mexican music, Mariachi, Folklore music; etc.
Our groups are available to play at any social event, whether is social, cultural, weddings birthdays, bachelor's parties, barbecues, etc. We also play at Cafes, Restaurants, Companies parties, Institutions, Cultural Organizations Festivals, and Theatres etc. We can perform in any place: Holland, Belgium, Germany or any other European country.
Fernando Lobato
Phone:
+31206149626
Cell phone:
06-22429993

E-mail:
This email address is being protected from spambots. You need JavaScript enabled to view it.

Address:
Vijzelgracht 39hs
1017HP Amsterdam
The Netherlands
Bedankt voor uw bericht. We nemen zo snel mogelijk contact met u op. Sabor Latino. All around Latin Music