Telephone NL: +31622429993

Telephone NL: +312061496262
7 days a week available

WhatsApp: +31622429993

E-mail: This email address is being protected from spambots. You need JavaScript enabled to view it.
Zeer geslaagd jubileumconcert van de Rabobank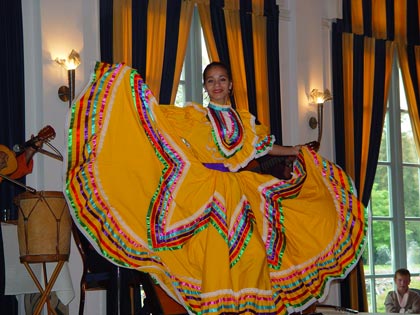 Ruurlo - Donderdag 14 oktober genoten de leerlingen van alle Ruurlose basisscholen van de prachtige muziek en dans in de Orangerie. Voor velen was het de eerste keer dat zij in de Orangerie waren.
Van negen tot twaalf uur waren de kindjes uit de groepen een tot en met vier aan de beurt. Zij keken hun ogen uit naar de prachtig geklede danseressen, die de kinderen uitnodigden om mee te dansen en muziek te maken op het podium. De band Sabor Latino speelde muziek die goed in het gehoor lag en bij sommige kinderen ook bekend was.
Veel aanmoediging hadden de kinderen niet nodig. De animo om mee te doen op de zeer aanstekelijke muziek was heel groot. De moeders, die hun kinderen hadden gebracht vonden het heel spijtig dat ze niet deel konden nemen aan dit feest, waarbij dans-, gym-, muziek- en zangles soepel in elkaar overgingen. 's Middags speelde de band Los Andinos met een grote variatie aan muziekinstrumenten. De diverse panfluiten, baby, moeder en oma werden gedemonstreerd. Meerdere gitaren van heel klein met 10 snaren en een met een bolle achterkant werden getoond en bespeeld.
Prachtige nummers op harp en fluit werden ten gehoren gebracht en ondertussen werd er druk gedanst door de danseressen en de jeugd.Bij een Mexicaans dansnummer werd een prachtige jurk geshowd.
's Avonds stroomde de zaal vol met kinderen uit groep acht. Zij brachten hun opa's en oma's mee, van wie de meesten nog nooit in de Orangerie geweest waren. Vol bewondering en zeer onder de indruk van het gebouw genoten allen voor de pauze van de muziek, de dansen en de uitleg over de instrumenten van Los Andinos . Daarna speelde de Salsaband Tropicaliente waarbij vrijwel iedereen zich vermaakte op de dansvloer.
Aan het eind van de avond bedankte Karin Klomp, medewerkster van de Rabobank de KunstKring voor de muzikale programmering. Jan Alfing, leraar van basisschool de Driesprong, die dit jaar aan de beurt was om een culturele dag voor alle basisschoolkinderen te organiseren sloot de avond af.
Bedankt voor uw bericht. We nemen zo snel mogelijk contact met u op.

Sabor Latino. All around Latin Music

Welcome
Are you looking for a nice Latin band for your wedding party or birthday? Do you want a dazzling Salsa band for your company party or event? Or are you looking for a Mexican Mariachi for your loved one during your wedding party? At Sabor Latino you have come to the right place. You can book a suitable Latin band for any occasion. You can contact us from a soloist duo, trio, quartet to a salsa band or Mariachi ensemble. We adapt to every budget and occasion.
Why Sabor Latino?
Sabor Latino stands for: quality, responsibility, flexibility. We guarantee the success of your party / event.
We play live and are ready to make your party an fantastic evening. All our musicians are professionals and have years of experience. We have performed at various types of events such as weddings parties, birthdays, receptions, ceremonies, corporate parties and festivals 
Music style?
We play well-known Latin American music styles such as: salsa, samba, merengue Latin pop, Latin jazz, bossanova, Cuban music, Mexican music, reggeaton. We also play covers of famous artists and music groups such as Buena Vista Social Club, Marc Anthony, Ricky Martin, Enrique Iglesias, Juanes, Juan Luis Guerra, Luis Fonsi, Gipsy Kings.
Book a Latin band?
Choose from these nice bands: Sabor Latino duo, trio quartet, Salsa band Tropicaliente. With our music you immediately get that nice holiday feeling! Book us and you are guaranteed a full dance floor!  You can also book us as a background band during your reception or drink with nice Latin jazz, bossa nova, bolero or lounge music.
Book a Mariachi band?
The best mariachi in the Netherlands Mariachi Fiesta Mexicana suits every occasion, such as: weddings, birthday, company parties, festivals, etc. We offer rates that are tailored to the nature of your party / event; this varies from a trio to an 8 music ensemble, dressed in the typical Mariachi costumes and with the sombreros; we walk by playing and singing like in the movies!
Booking?
You book us in an easy, fast and reliable way, without booking costs, intermediaries or commissions. Not sure yet what you want? No problem, we are happy to think along with you. Let us help make your party / event unforgettable! Request a quote now without any obligation.
Phone:
+31(0)2061 49626
Cell phone:
+31(0)6 2242 9993

E-mail:
This email address is being protected from spambots. You need JavaScript enabled to view it.

Address:
Vijzelgracht 39hs
1017HP Amsterdam
The Netherlands
Thank you for your message. We will contact you as soon as possible. Sabor Latino. All around Latin Music